Your living room is the entertainment hub for your household. It's where you go to catch the big game or watch the latest movie releases, binge the latest series everyone is talking about, or unwind with a video game. A fantastic home entertainment system, on the other hand, consists of more than just a television and an audio system. Furthermore, where you place, store, organize, secure, and access your home entertainment components, devices, and media is more than just a "box to put your TV on top of." We can assist you in selecting the best home theater TV stand and entertainment center for your needs, whether you want a simple solution or a full home theater experience!
1. Match the size of your room
A TV cabinet is most likely the center focus of your living room, but that doesn't mean it has to be overly huge. Before you start shopping for TV units, measure the size of your living room and your TV. You want the size of your TV unit to match the size of your room. To ensure that your TV fits safely on a cabinet, choose a unit that is around 20% longer in length than your TV (Although a flat-screen TV typically has a base for even weight distribution, you risk knocking the TV if the cabinet is too small). Consider whether the unit has adequate weight capability.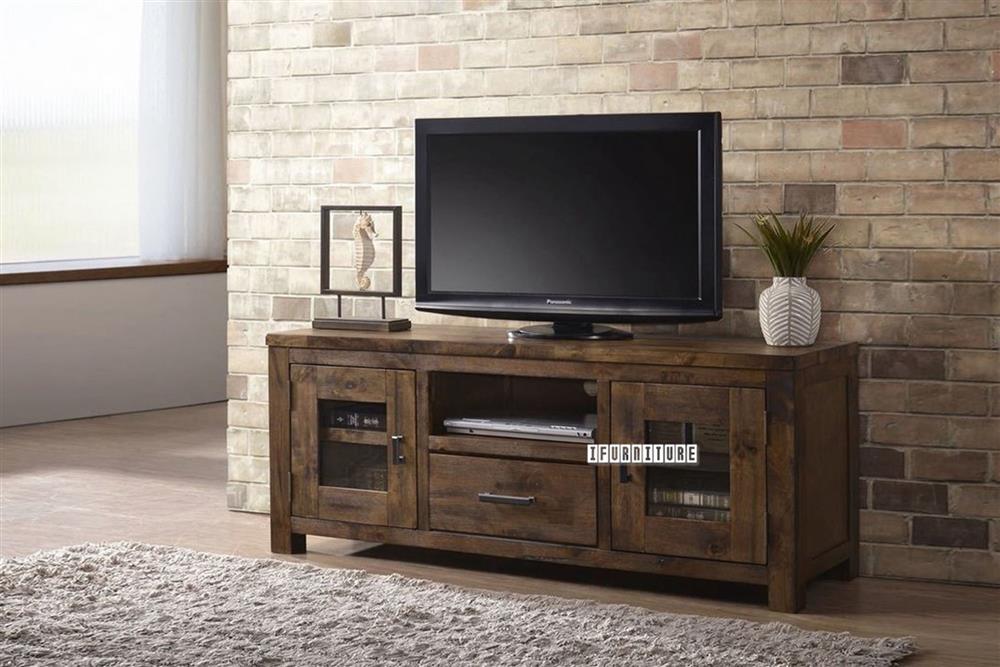 (Ventura 2 Door and 1 Drawer Oak TV Unit)
Modern meets rustic design with our Ventura 2 Door and 1 Drawer Oak TV Unit. Crafted of solid wood with partially engineered wood and oak veneer. This TV unit exudes rustic simplicity. The classic oak finish creates a warm and welcoming atmosphere in any living room. This highlights a warm, rustic style, defined by thick block legs, simple lines, and a classic oak finish. It also offers a variety of storage options, four drawers will keep manuals and remotes out of sight for your DVD player and digital receiver which let you pick the perfect looks and solutions for your home.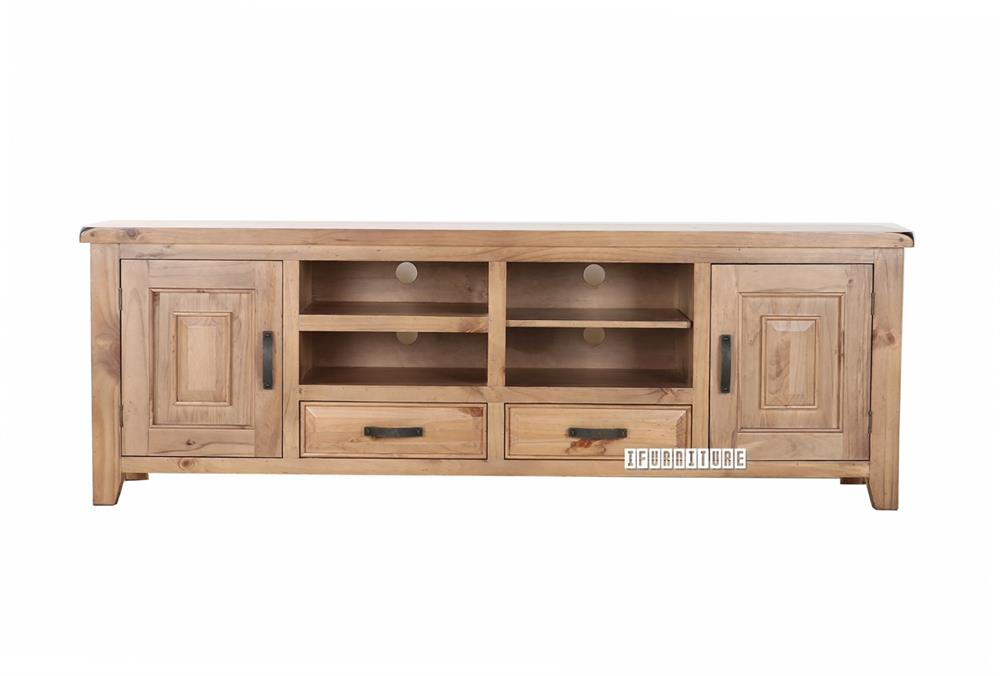 (Franco Large 200 Entertainment Unit)
What about this FRANCO TV cabinet for a little larger living room? It's beautifully crafted with NZ pine wood and finished with a satin lacquer that highlights the unique grain patterns and natural colouring. Storage doesn't get much better than this - there are two drawers and open shelves for all your technological equipment, plus holes in the back to hide unsightly connections plus two spacious side door cabinets for your books and other belongings.
2. The ideal viewing height
The TV screen height is crucial for the best viewing comfort. It may be difficult to put your screen at the ideal height, but you can acquire a TV stand that is as close to eye level as possible. Measure your eye level while seated to ensure the center part of the TV is not too much above your sight line. Consider purchasing a TV stand with a mount to allow you to adjust the display height to your liking.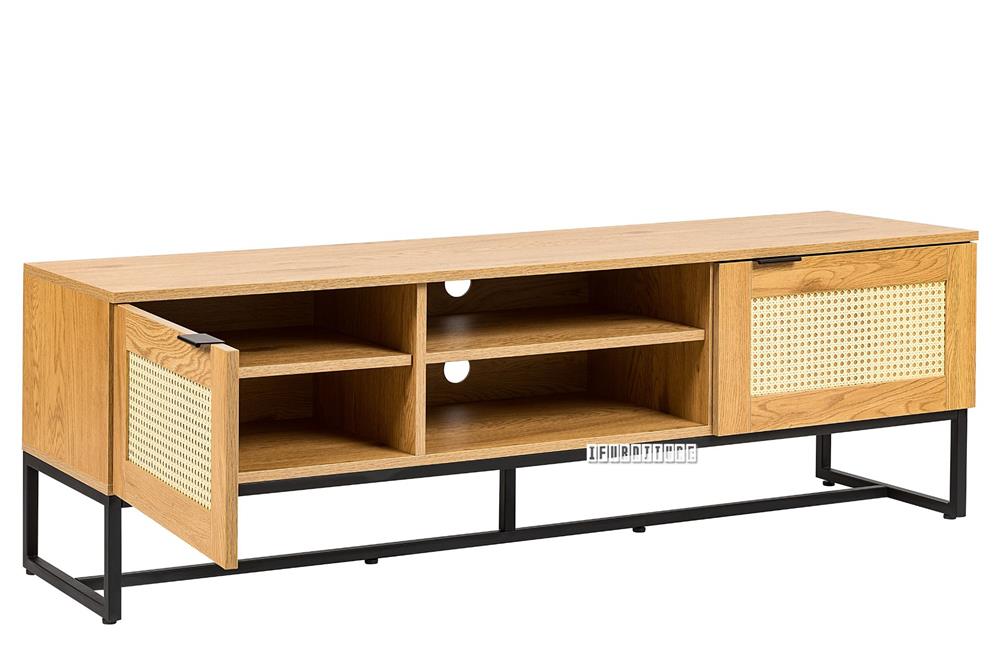 (Sailor TV Unit with Rattan in Oak Colour)
The SAILOR collection will make a great addition to your Bedroom, Living room, Dining room, and Office room. Fulfill the needs of your living room with the versatility of the lovely SAILOR TV stand. This TV stand is crafted from engineered wood featuring a natural oak finish. Two open shelves provide a convenient display for media devices, while two doors and four additional shelves behind the doors offer secure storage options. The SAILOR includes two cord management holes on its back panel for a quick and easy setup.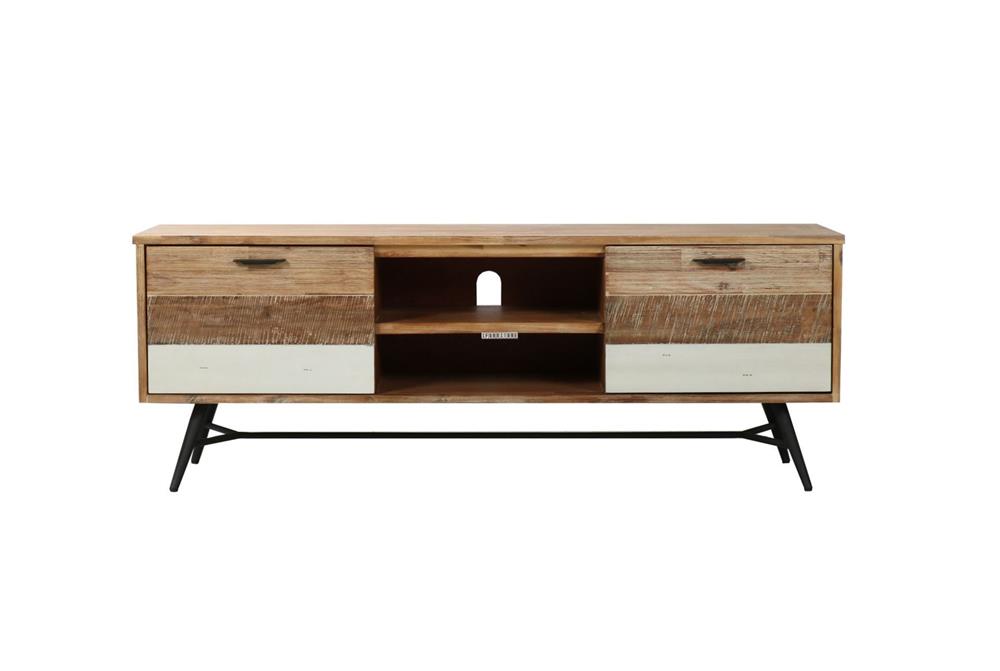 The new LEAMAN acacia wood collection will make a great addition to your bedroom, living room, and dining room. The beautiful LEAMAN bedroom & living series is constructed from Kiln-dried solid acacia wood & engineered wood with an acacia wood veneer, with multi-colored panels and natural grain of the wood. Equal parts contemporary style and elegant charm, our beautiful acacia collection will surely become the center of attention in your decor.
3. The best shape for your room
When deciding on the proper size TV cabinet for your home, consider the shape of the living room. If you have a large enough room, nearly any form and size will look good as long as the overall style complements your room decorating. But what if you have a narrow or unusually shaped living room?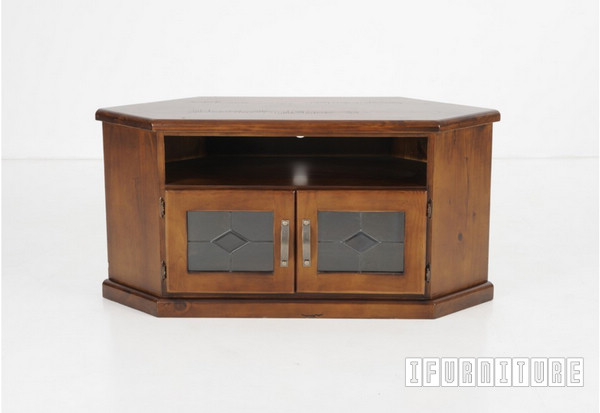 (Federation 131 Corner Entertainment Unit)
Working with a small or irregularly shaped space does not mean you have to forego your ideal television. The Federation corner entertainment unit allows you to squeeze a TV into a small area since the back of the unit is curved to push back considerably deeper into the corner of the room than a straight-edged stand. This saves space and makes the TV less visible in the room.
4. A Design that complements your living room
Look for a TV cabinet that complements the furniture in your living room. To match your TV cabinet to your coffee table or sideboard, we offer a variety of styles that are a part of coordinated living room collections.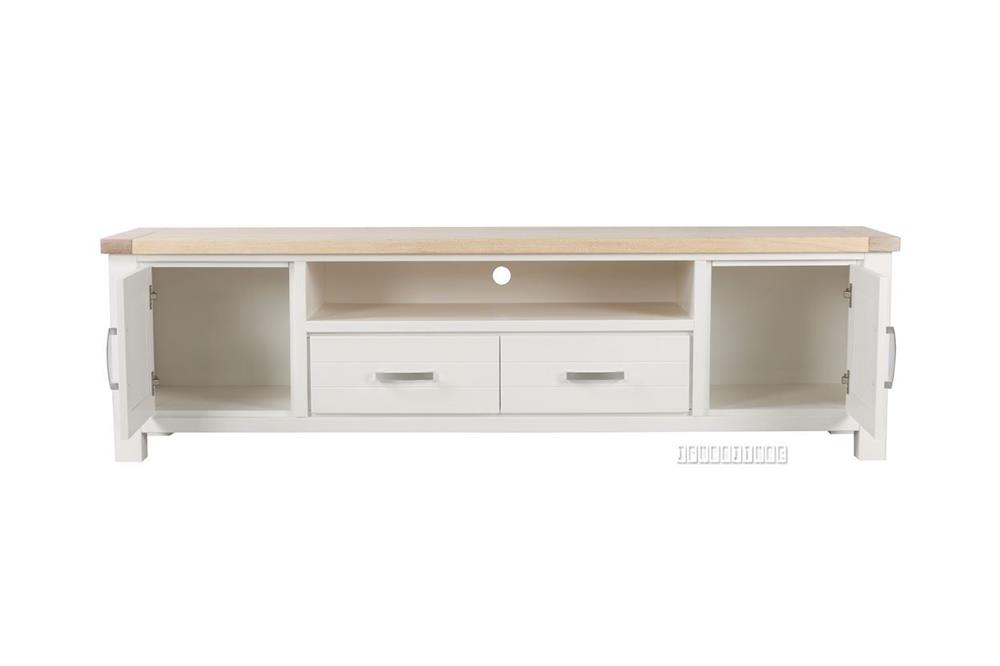 (Sicily 201 Two Drawer Large TV Unit)
The large SICILY TV unit is painted crisp and white with light brown ash timber tops that bring a light and bright feel to any room. The unit is made of solid wood, with pine that has been painted white and light ash for aesthetic purposes. Each piece is well-built, and each drawer has polished silvery handles. SICILY includes one shelf, two drawers, and two side-door bookcases.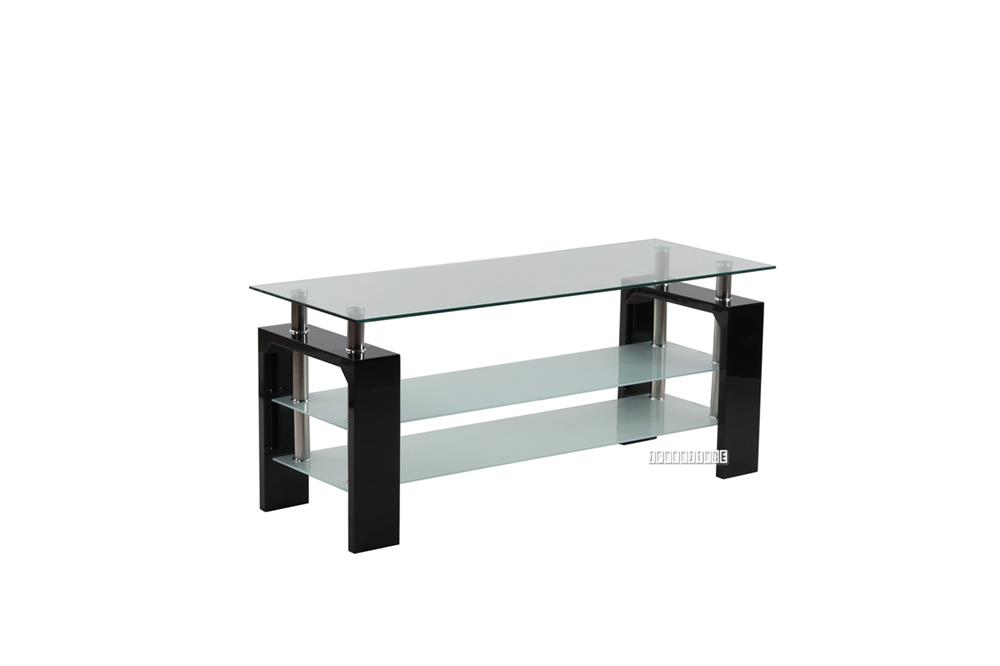 Another extremely popular design for giving the living room a contemporary feel is the glass TV cabinet style. They're one of the most popular TV cabinet designs and a terrific option for tiny living areas because they take up substantially less space. HORIZON modern glass TV unit in black. This attractive unit is made with a clear tempered glass top and 2x tempered frosted glass shelves below; the legs are black OR white high gloss.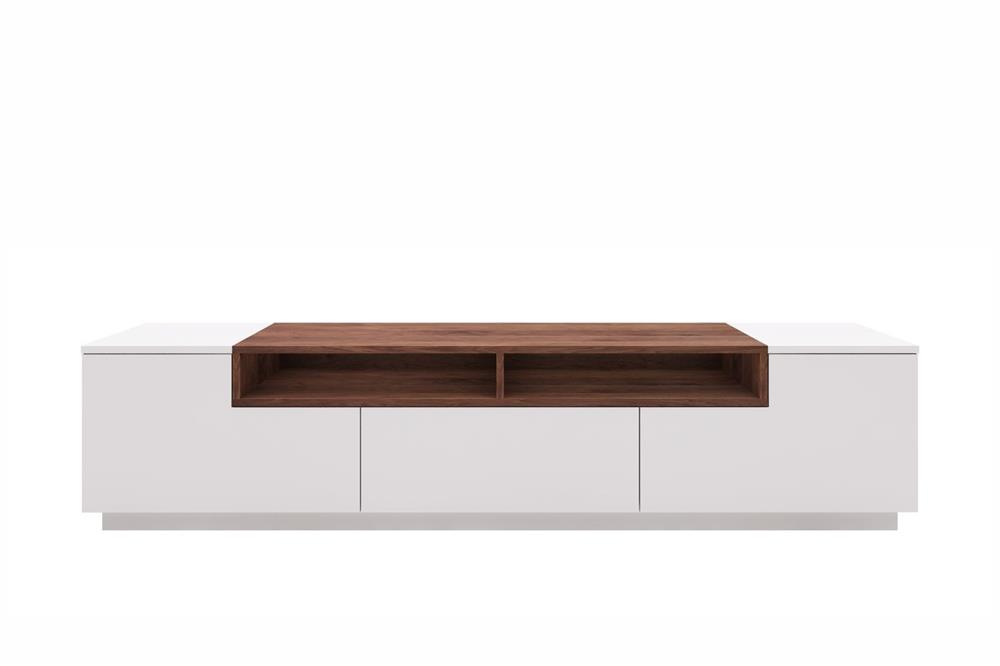 Try the modern HATTON TV unit in minimalist and simple elegance. The white body combined with a walnut middle open shelf colour makes HATTON one of your best choices to achieve that clean and natural look. The unit is wide enough to put your large TV for your enjoyment. Tucked your entertainment device in the middle open shelf of HATTON. Worry less, HATTON provides storage space inside the white door and the middle drawer for your recreational things so you have a clean space in your living area. Get your partner/family ready for maximum enjoyment with HATTON.
5. Don't forget about storage
One of the greatest ways to display your TV is to keep the space in your TV cabinet clear of clutter. Consider how many gaming consoles and set-top boxes you want to store. Make a note of each one's specific measurements to ensure that they will fit. To keep your living room clutter-free and to store DVDs, remote controls, and headphones, look for designs with drawers, shelving, or sliding doors.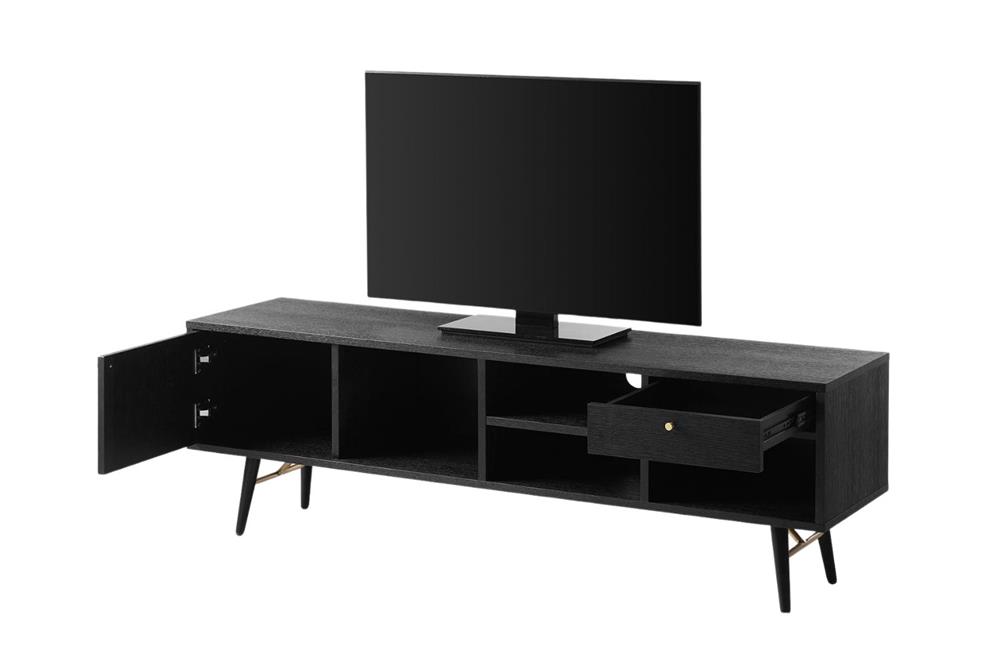 A Scandinavian-style 150 cm TV unit in the LUX range. LUX is a Scandinavian-style collection of cabinets made from engineered wood, with matt Black oak-feeling melamine veneer, copper handles, and slim tapered metal legs. All these ideas give the LUX range a very strong Scandic feeling. The range could easily fit with any room style. The unit has four shelves for your DVD player, digital box, and console unit, and one drawer to stow away DVDs, games, remotes, and spare leads.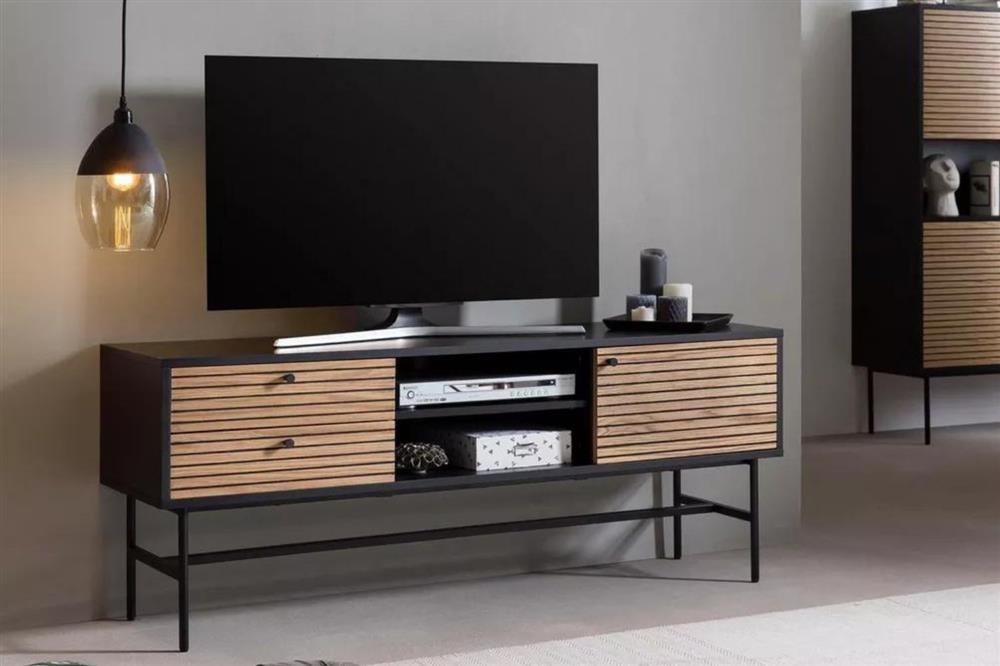 (Colin 150 TV Unit With Line Design)
Sleek and modern COLIN TV Unit with a natural atmosphere in mind. The combination of black and wooden clean lines panel gives COLIN a distinct character. It airs out a modern vintage aura to your space. The black metal leg provides your entertainment devices with solid support. Put away your recreational stuff inside the sleek lined door and drawers or put them on the open middle shelvings for easy finding. Add enjoyment to your living area with COLIN's presence!