Decorating your home with throw pillows is an easy and cost-effective way to add style and comfort to any room. Not only are they aesthetically pleasing, but they also provide extra cushioning and comfort when you're relaxing or entertaining in your home. With a wide variety of sizes, colors, and materials, you can easily find the perfect throw pillows to match your existing décor and create a look that is both cozy and inviting. Whether you're decorating a living room, bedroom, or outdoor space, throw pillows can be used to bring in a bit of extra color and texture. And, since they're relatively inexpensive, you can easily switch them out whenever you're in the mood for something new. So, if you're looking to update your home, why not give throw pillows a try? They're an easy and affordable way to add a touch of comfort and style to any space.
Throw pillows come in a variety of colors, patterns, and textures, so you are sure to find something that fits your personal style. You can choose from a wide range of colors, such as bright and vibrant colors or more muted tones that will blend into your existing décor. Patterns are also a great way to add some personality and visual interest to your space. From abstract designs to geometric patterns, there is sure to be something to match your style.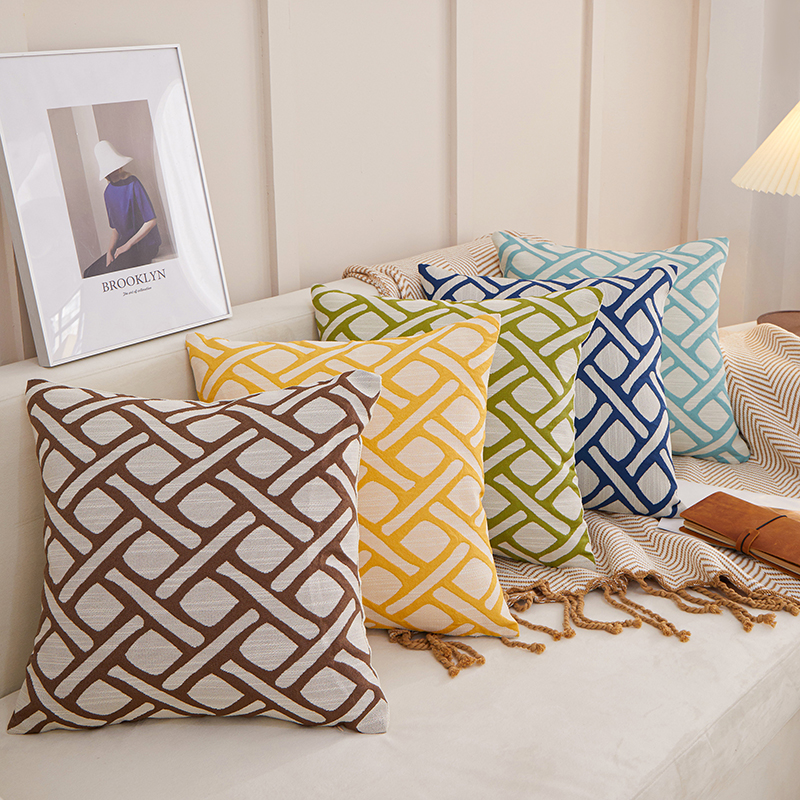 (Geometric Jacquard Fabric Pillow Cushion with Inner Assorted)
This GEOMETRIC JACQUARD fabric pillow cushion offers a modern and stylish look to any space. Featuring an assortment of colors and geometric designs, this throw pillow adds a vibrant pop of style to any décor. Its soft cushion is filled with a plush inner, providing extra comfort and a cozy feel. Easy to clean, this pillow is machine washable, making it a convenient and low-maintenance addition to your home.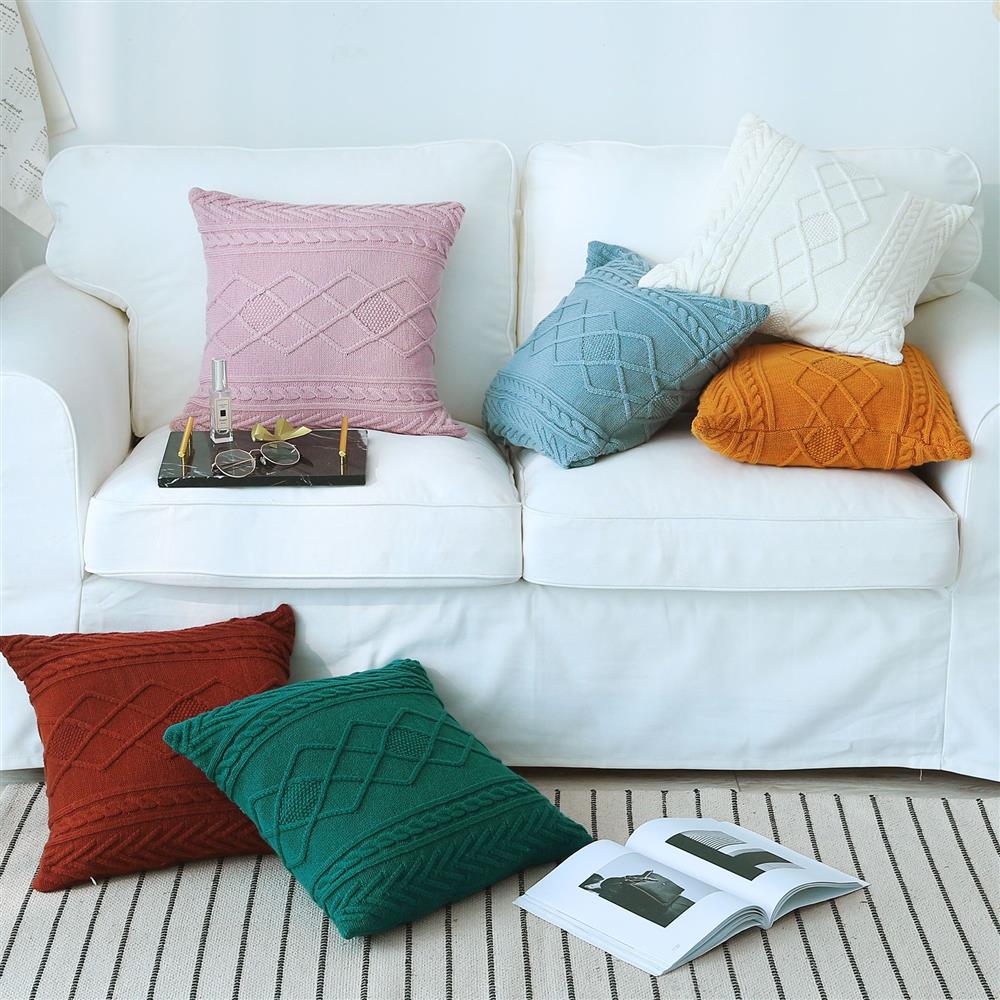 (Diamond Pattern Hand-Knitted Pillow Cushion with Inner)
This Diamond Pattern Hand-Knitted Pillow Cushion with Inner is a unique and stylish addition to any home decor. The pillow is expertly crafted with 100% hand-knit yarn-dyed fiber for a luxurious and vibrant look that will last for years to come. The intricate diamond pattern creates a stunning visual effect that adds a touch of sophistication to any room. The pillow also features inner cushioning that provides extra comfort and support. Add this beautiful accent to any room and enjoy its timeless style.
When it comes to texture, throw pillows are also a great choice. From faux fur to velvet to chenille, you can find a pillow that is both comfortable and stylish. Depending on the fabric you choose, you can add warmth and coziness to your space.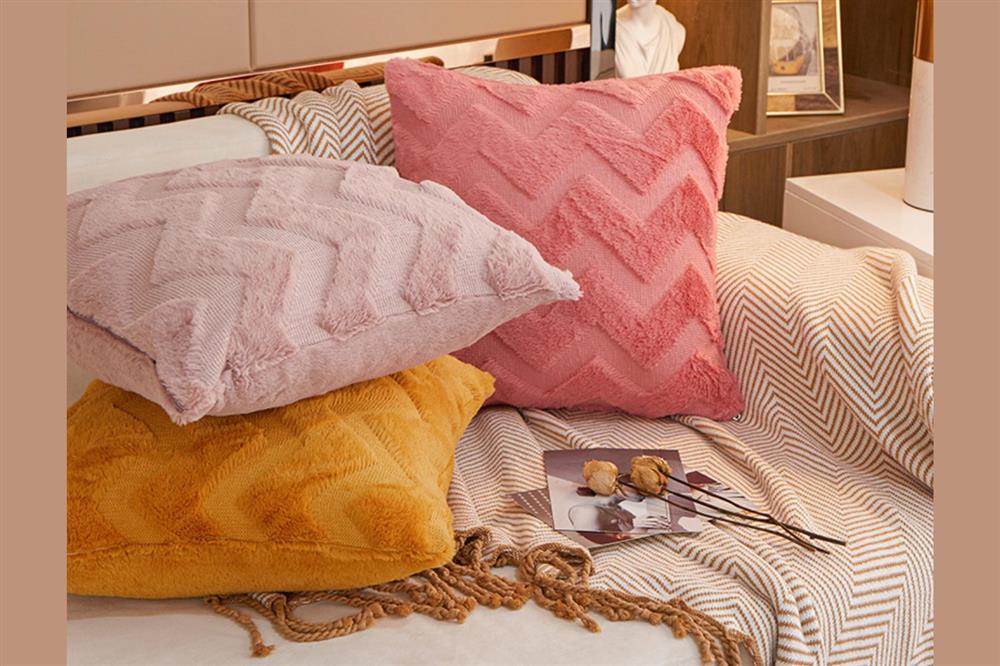 (Fluffy Embroidery Pillow Cushion with Inner Assorted)
The Fluffy Embroidery pillow cushion is an exclusive piece of home décor that will add a chic and modern touch to your interior. Made from high-quality faux embroidery wool fur and velvet in the back, this cushion is super soft and comfortable, with a 3D embroidery that creates a contrasting texture and appearance. This cushion is perfect for discreetly fitting into your sofa, bed, living room, bedroom or any other place of your home. It also makes a great decoration for your car, coffee shop, and other places. Add this stylish and modern cushion and create a cozy and inviting atmosphere.
When shopping for throw pillows, be sure to consider the size and shape of the pillows you want. Square pillows are the most popular, but you can also find decorative pillows in different shapes, such as circles and rectangles. Additionally, you can find throw pillows in a variety of sizes, from small accent pillows to larger floor pillows.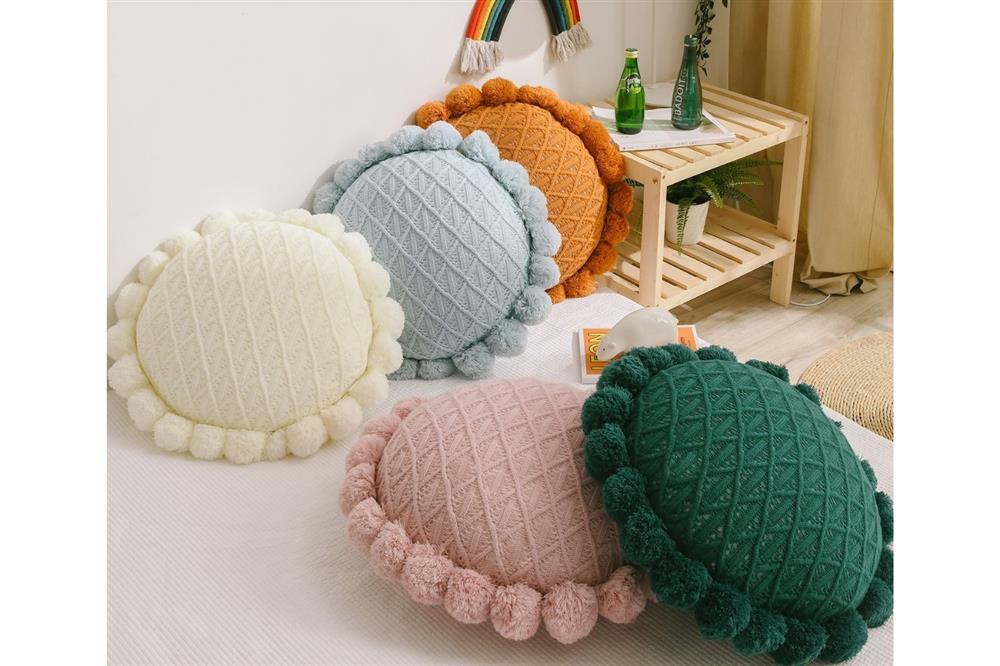 (Round Hand-Knitted Tassel Cushion with Inner)
This round hand-knitted tassel pillow cushion is the perfect addition to any home decor. Its intricate design and texture will bring a touch of warmth and texture to any room. The 100% handknit tassel provides a unique and luxurious feel, and the yarn-dyed fiber adds a beautiful splash of color. This pillow cushion is sure to make any space feel inviting and cozy.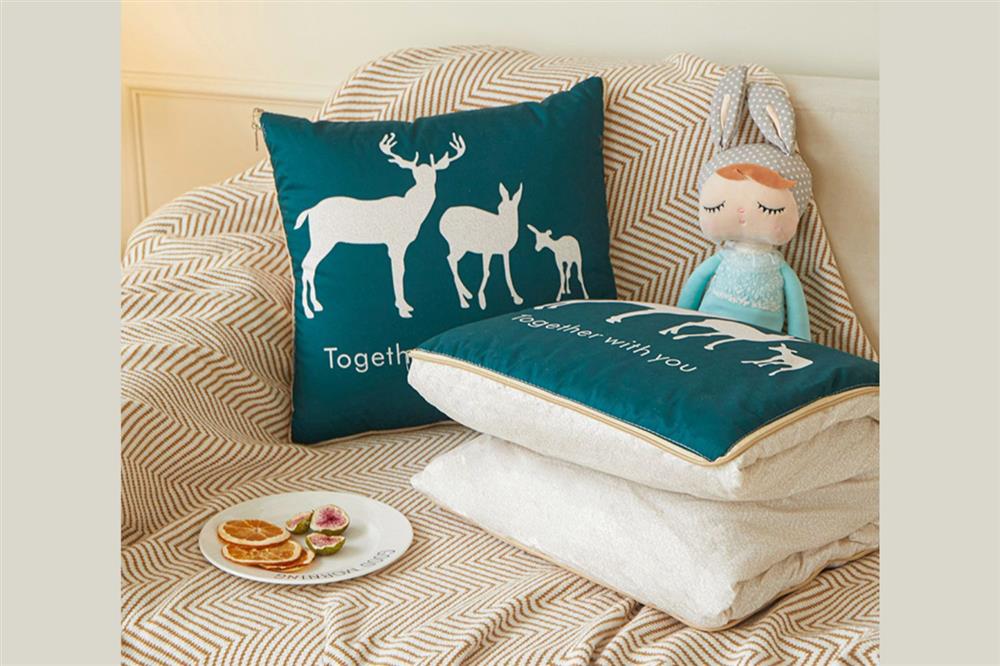 (2-IN-1 Multifunction Throw Pillow & Cotton Blanket / Quilt)
Our multifunctional pillow will turn into a nice cozy blanket when you unzipped the pillow. This 2-in-1 Pillow blanket makes it convenient to use for any occasion indoors or outdoors. Whether you just want to lounge comfortably at home on your couch, camp outdoors, do long drives in the car, travel in a plane, watch the sunrise/sunset near the ocean or read bedtime stories with your kids, our pillow blanket will be perfect to stay warm and comfortable to meet your needs. This soft skin-friendly fabric is made with 100% Polyester Microfiber with PP Cotton as filling. This elegant material is an all-season must-have for keeping you warm during winter and cool during summer. It is space-saving. Our multifunctional pillow blanket not only adds a beautiful touch to your home, car, bedroom, office, or any decorative space, but it is also very convenient and keeps you organized when you are planning your next outdoor trip.
Throw pillows are a great way to add style and comfort to any room. With a wide range of sizes, colors, and materials, you can easily find the perfect pillows to match your existing décor and create a look that is both cozy and inviting. They are also relatively inexpensive, so you can easily switch them out whenever you're in the mood for something new. Decorating your home with throw pillows is an easy and cost-effective way to update your space and add a touch of comfort and style visit our website for more options https://ifurniture.co.nz/